Clas Ohlson employs a clear process for analysing, prioritising and validating our most important sustainability issues. Clas Ohlson's materiality analysis constitutes the basis for our way of working on sustainability and how we report social and environmental impact.
The process enables identification of the issues that are most relevant for delivering long-term value creation to our most important stakeholders. It also enables identification of the greatest impacts of the business model on the environment and society and the most important contributions to our overall operational targets, and to building Clas Ohlson as a meaningful and credible brand and company.
The process is forward-looking, and has enabled identification of the issues that prepare us and build our resistance through managing risks and making use of opportunities that a rapidly changing society brings with it.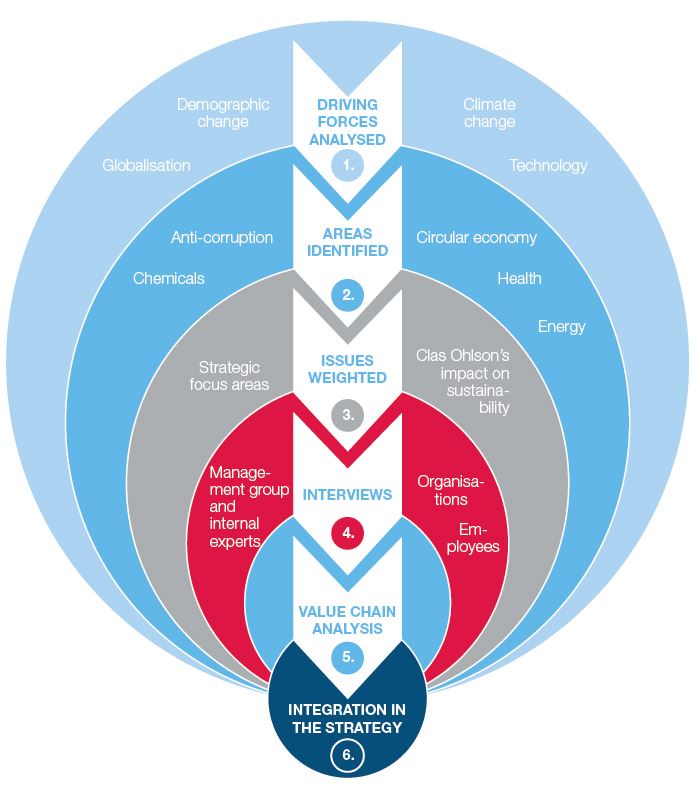 The process in brief
Our materiality analysis has been updated as part of Clas Ohlson's strategic review. In order to identify the most material sustainability issues, we have applied a six-step process in which the results from each step lead on to the next.
1. The trends and drivers that will form the future are analysed.
2. Topics that may be relevant to the company's strategy are identified and categorised under each of the three strategic focus areas: A unique customer offering, World-class customer service and Smart and simple.
3. The issues are ranked in an internal process together with the heads of business areas and experts with insights from our primary stakeholder groups.
4. The results are validated through interviews with external stakeholders, an online survey and the management group.
5. The areas that have the greatest impact in each phase of the value chain are identified to evaluate where the impact occurs, where it can create the greatest value and where our responsibility begins and ends.
6. The results are compiled together with recommendations for continued integration into the company's strategy.
By involving internal and external representatives in this work, we are able to see how we can create value for our stakeholders. We are also in a better position to analyse how sustainability issues affect the way in which we manage risks and generate new business opportunities.