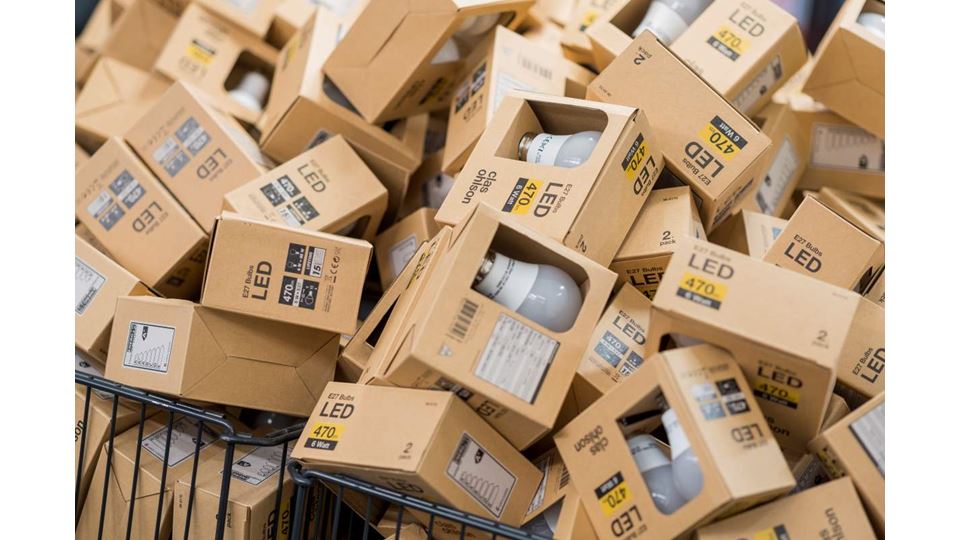 Packaging is everywhere in our value chain and we believe that we can do a lot to streamline the use of packaging and packages/wrapping.
Our streamlining efforts involve several functions within the company. For example, the distribution centre, the logistics department, purchasing office in China, as well as the product development and design team.
We have reduced the use of packaging materials by making smart choices already in the design and purchasing phase. We work with selected suppliers, choose materials that can be recycled and are careful to separate different materials. We avoid coloured plastic and print on the plastic packaging materials as this reduces the possibility of them being recycled.
Thanks to our new model for assessing sustainable products, this is easier for us to do, and this includes packaging.
Plastic in our packaging
We are currently working on a packaging strategy and to establish clear targets in this area. Today, we have an internal goal of reducing unnecessary plastic packaging on our products that we buy directly from our suppliers in Asia. We have carried out many preventative measures and had a concrete target in place to remove a million plastic bags before December 2019. Unfortunately, we did not reach our goal of one million. We believe that we can achieve the best results by involving our store staff in these issues. They are affected daily with the large amount of packaging that arrives in our stores and are very committed to these issues. Because of this we have created easy to access digital ways for store staff to directly give tips on things to improve and ways to improve them.
The project started in February 2019 and thanks to the dedication and commitment of our store staff we have had constructive dialogue with our suppliers and removed more than 800,000 plastic bags. However, we will not reach the target of one million. This is because the suppliers who took part in the project proactively reduced the plastic bags on orders for new products in accordance with our new updated guidelines. In this way, we remove fewer plastic bags, but we still have the effect of fewer plastic bags arriving with our products.
Clas Ohlson's strategy on plastic
By 2020/21 at the latest, with the aim of reaching the goal before then, all disposable products to do with food such as glasses, plates, cutlery and straws will be made of bio-based material that is not defined as plastic according to the EU definition. Similarly, all freezer and refuse bags will be made of bio-based or recycled material. Disposable plastic items will be removed from our workplaces, which includes staff rooms in the stores, the distribution centre in Insjön and in our offices.