Sustainability is a prerequisite for long-term profitable business. At Clas Ohlson we incorporate the environment and social aspects into our corporate strategy and organisation. We have a motto for this process: "From here to sustainability."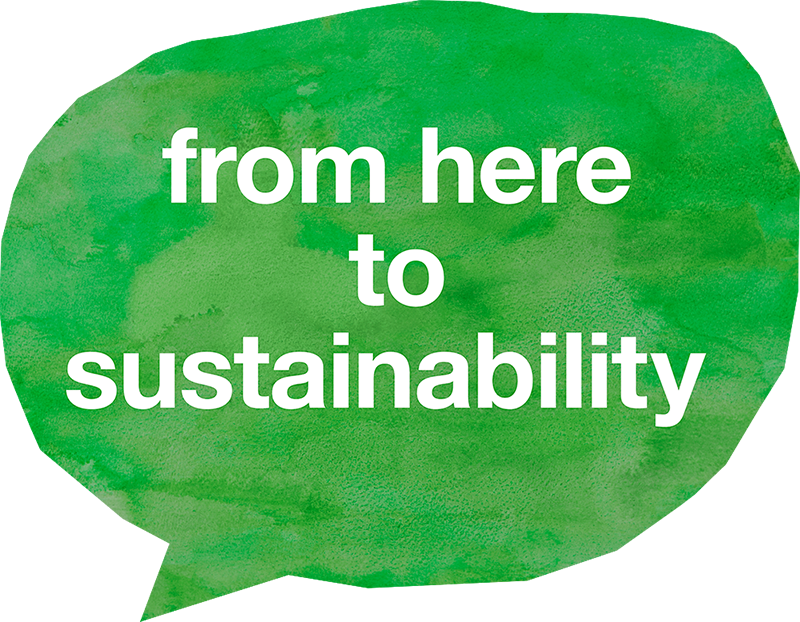 From here to sustainability, as symbolised by the green speech bubble, helps to draw attention to our sustainable offering. Our customers and co-workers must be confident that the products and services we sell are safe to use and that they have been made under good working conditions and then transported with as little environmental and climate impact as possible.
In order to successfully deliver a sustainable offering, we also have to continuously develop our range and our services to ensure they offer a more sustainable lifestyle.
From here to sustainability also describes the journey we are on as a company. It sums up our ambitions and describes the most important issues we face.
We have eight prioritised sustainability areas that help to guide us on this journey. These have been defined in a structured process, which includes dialogue with the company's most important stakeholders, and are documented in a materiality analysis.
Ambitions
2016/2017: An integrated approach
Continued integration of sustainability into our strategy and processes, with a focus on our customer offering, purchasing and transport.
We are pushing ourselves to do better by linking our emission targets to our expansion and our growth targets. As a result, we are reducing our CO2 emissions relative to our sales. We are also increasing the target for sales of products for a more sustainable lifestyle from 14% to 25%.
2020: A sustainable customer offering
We promote products and services for a more sustainable lifestyle and help our customers to reduce their environmental impact.
Our sustainable customer offering has a clear role to play and helps us to realise Clas Ohlson's vision. We are setting out our role in a circular economy.
Long-term ambition: A resource-efficient value chain
We reuse, recycle and develop products and services; we also want to improve our approach to work. All to ensure a more resource-efficient value chain.
Towards a resource-efficient value chain
Traditionally retail has been about selling products. Developing services that help customers to conserve resources, extend the life of products and reuse them is key to achieving greater resource efficiency.
Our long-term ambition is to contribute to a resource-efficient value chain. In order to do this, we have to encourage transparency, streamline processes and expand our range of resource-efficient solutions that complement our product offering.