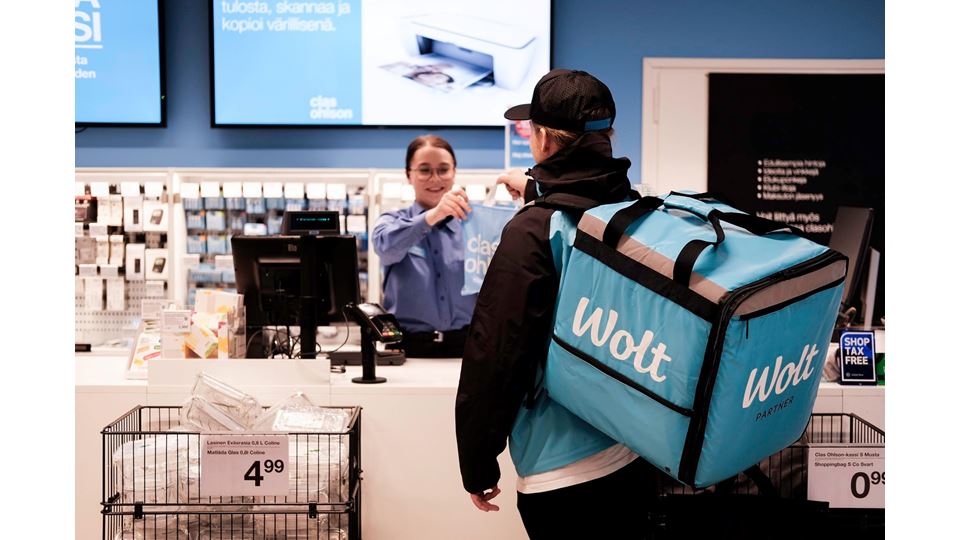 Starting from March 10, people in the city center of Helsinki can get Clas Ohlson's most popular products delivered at their doorstep through the Wolt application. 
Clas Ohlson and Finnish food-tech company Wolt have joined forces to offer people in the Helsinki city center everyday-life convenience and to explore new opportunities together. 
During a 3-month pilot, Wolt users can pick and order items from a special assortment of selected Clas Ohlson products, including fuses, umbrellas, and LED light bulbs for delivery. Initially the service area consists of central districts around Clas Ohlson's Kamppi store, including Ruskeasuo, Pasila, Katajanokka, Kalasatama, Munkkisaari, Lauttasaari, and Meilahti. Depending on how the pilot is received, the companies might expand to further districts in the future. 
For Clas Ohlson, teaming up with tech-driven service providers creates opportunities to reach new customers, while also enabling a more convenient service offer to their existing customers with fast home and office delivery. 
"We want to simplify life in all kinds of homes. Offering customers' availability and convenience are essential to our continued journey of growth. Collaborating with high-tech service providers like Wolt enhances our customer experience for existing customers, and allows us to attract a new young customer group. We have successfully implemented cooperations with online grocery stores Mathem in Sweden and Kolonial in Norway. Now we are happy to start our journey with Wolt here in Finland," says Country Manager Virpi Viinikainen.
Known for food delivery operations in 20 countries and 75 cities, Wolt looks to learn more about how the company could match customer needs in other domains with their application and logistics know-how.
"We're thrilled to start our pilot with Clas Ohlson, which is a household name when it comes to necessary everyday-life products. While the domain is new to us, our goals remain very much the same: To give people the gift of time through our service, and exceed expectations in user experience and making everyday life a bit easier," says Henrik Pankakoski, General Manager of Wolt in Finland.