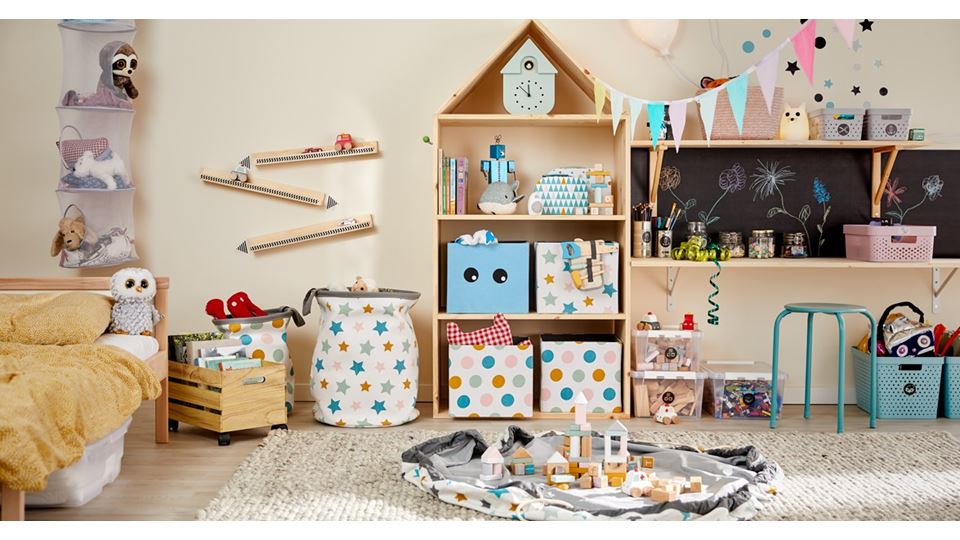 We're now launching a new series of custom-designed wooden toys which are labelled with the FSC® mark. Our new assortment also offers smart solutions for organizing and decorating the kid's room.
Our new wooden toys for younger children are custom-designed and FSC-labelled, which is a mark for responsible forestry.
"Both parents and children appreciate sustainable and educational toys. With durable material choices and high quality, the toys can be loved longer by all playful children," says Anna Stenvi, Product Manager for Children and Play at Clas Ohlson.
In the new wooden toy range we offer classic toys such as a cash register, a car carage, dollhouse furniture and stackable blocks and trays.
To make it easier to keep the kid's room in order, we also launch smart storage solutions that can be mixed and matched in different shapes and colours. To facilitate sorting, and also include the children in keeping order, there are small sticker labels with various symbols to attach to the storage solution to show what goes where. Clas Ohlson has also developed a smart play mat that can be easily transformed into a storage bag.
In order to facilitate the decoration of the kid's room, Clas Ohlson has produced vinyl decorations which can be easily attached, and removed, on walls - which is both more flexible and affordable than wallpaper or painting an entire wall.
"Our goal is to offer a comprehensive solution for the kid's room. We want to become a destination for smart and tasteful solutions for all the children's areas in the home." says Anna Stenvi, product manager for children and play at Clas Ohlson.