Clas Ohlson and Vinden have initiated a new phase in our strategic partnership: Now Norwegian customers can get access to a modern storage service and organise their homes in a simpler way.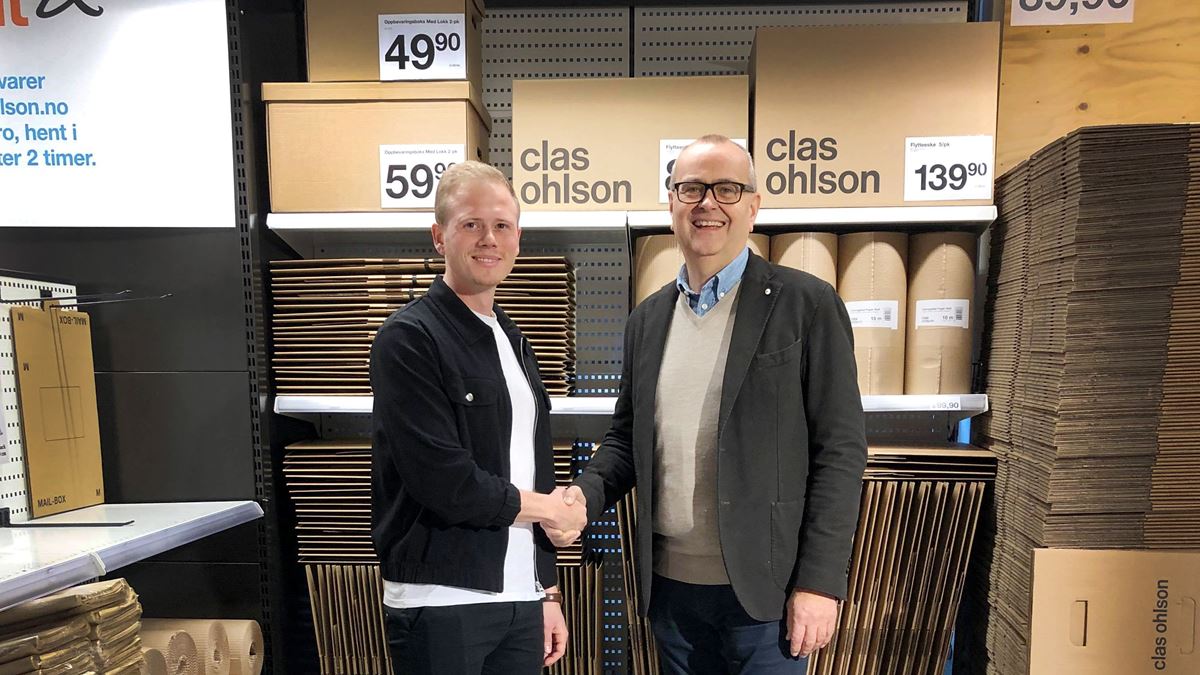 Sebastian Wiberg, CEO of Vinden (left), and Trond Martin Nettelhorst Tveit, Manager for Business Development at Clas Ohlson in Norway (right).
Last year, Clas Ohlson and Vinden started collaborating in a couple of stores in Stockholm and online. The purpose of the collaboration is to help our customers organise their homes by offering "On Demand Storage," that is, collection and storage of single removal boxes or items.
"The storage service is easily booked through Vinden's app, then Vinden collects and stores the items, and customers can manage the storage through the app. If the things are packed in one of Clas Ohlson's removal boxes, customers in Sweden get the first month of storage for free," says Henrik Danielsson, Head of New Business at Clas Ohlson.
In Sweden, the service is currently offered in all Clas Ohlson stores in the Stockholm area. The collaboration with Vinden has been well received.
Simpler storage
"We have verified that customers experience the same problem that we have, and that we are able to come up with a solution to the problem that customers appreciate. Now we are taking the next step in our collaboration with Vinden, by establishing the service in the Strømmen store in Norway," Henrik continues.
"Clas Ohlson has a clear strategy for the development of the company, with new services and products that simplify the everyday lives of our customers. Customers want a seamless shopping experience where they can easily solve everything at a single destination. We want to be that destination," says Trond Martin Nettelhorst Tveit, Manager for Business Development at Clas Ohlson in Norway.
"We notice that Norwegians, particularly those living in urban areas, have smaller and smaller homes and less storage space. For many people, it is easier to throw away their items, instead of taking care of them. In our pilot in Norway, we offer a whole three months of free storage to customers who buy removal boxes at Clas Ohlson," says Sebastian Wiberg, CEO of Vinden.
By the end of the year, the collaboration with Vinden will be available in all of Clas Ohlson's stores in the Oslo area. Currently, a pilot project is underway in the Clas Ohlson store in Strømmen Storsenter in Oslo, Norway.