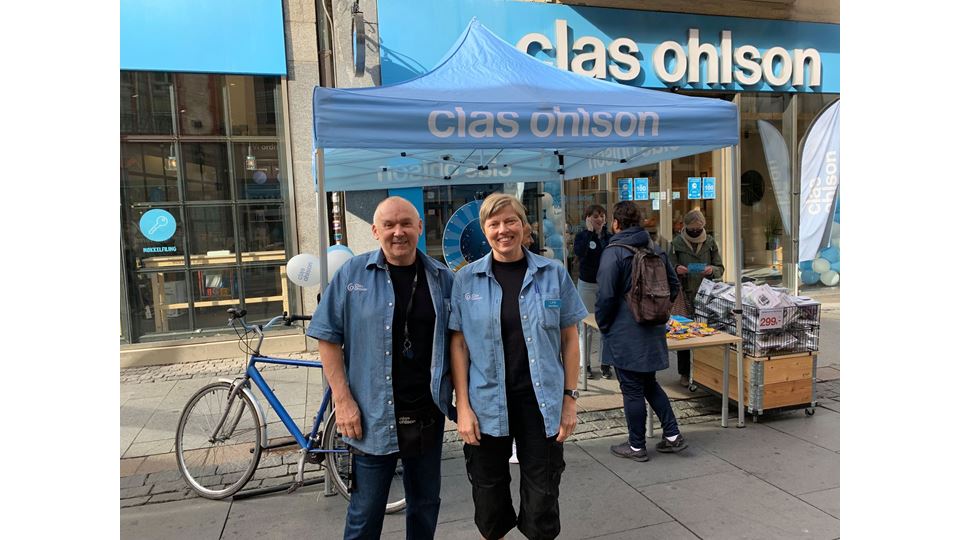 Our flagship store on Torggata in Oslo celebrates 30 years. It is the oldest Clas Ohlson store in Norway. Team leaders Line Klemetsdal and Herbert Johansen have worked here for 16 and 26 years. What do they think has changed since they started?
The store is still in the same building as when it first opened, but over the years much has happened with products, store interiors, and our logo. However, the mission to help people with their daily projects remains the same.
What was it like to work at Clas Ohlson in the beginning?
"It's hard to even compare with today. I remember we had one computer for the whole store and each order was a manual procedure with pen and paper. The checkouts were manual and the style at the time were large, closed off disks. It wasn't anything like today where we interact with customers all day," Herbert laughs.
The range has also changed over the years.
"Yes, the range has changed plenty. Previously, we mainly sold a lot of tools while today we focus on solutions for all types of people in all kinds of homes. Products for storage, home and kitchen have become bestsellers here," says Line.
"Customers' needs are basically the same. They still want product information and guidance, but they have new requirements on how to find the information. Some customers want to talk to us, others want to use digital screens, for example. The world and the way we shop are changing faster now than 10 years ago," says Herbert.  
"Our core has always been our customers, even though our working methods are evolving, they remain our most important focus, and also what makes it so interesting to work here," adds Line. 
Why have you stayed so long? 
"We are all types of people who work here, different ages, backgrounds and experiences. Diversity makes it easier to reflect our customers, but it also makes our days more interesting. We're like a big family," Line concludes.
Flip through the images to see how the Torggata store used to look in 2003 - it had already been open for a few years by then.