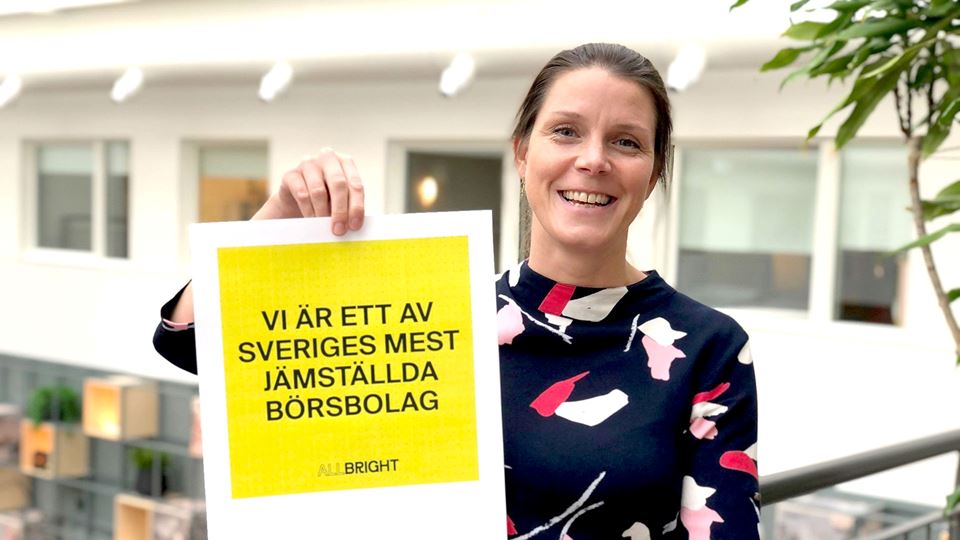 In October 2019, Allbright appointed Clas Ohlson as one of the most equal Swedish listed companies. Behind the scenes, Clas Ohlson has made determined efforts with gender equality; however, we can always improve in this area.
"We are very happy and proud of this recognition as it proves that we have been working actively with diversity at Clas Ohlson. We have an equal management team and an overall equal company, with 44 percent women and 56 percent men, says Maria Thulemark, HR Business partner, responsible for the company's diversity efforts.
Clas Ohlson's equality target is set to a gender distribution of at least 60/40 in all parts of the organisation.
"Today, we have an equal senior management team, of which we are proud. Equality also has a link to results. Studies show that companies that have gender equality are more profitable: Companies with at least 30 percent women on their management teams have six percent higher profits. Research also shows that equal companies display a higher degree of innovation and are better at attracting and retaining talent," says Maria.
Part of the diversity efforts
At Clas Ohlson, gender equality is a part of the wider issue of diversity. Diversity, in turn, is defined as a workplace where there is a good mix of people with different backgrounds and cultures, personalities and experiences.
"Diversity is an asset for becoming a dynamic and creative workplace. For those of us who work here, we understand and respond better to our customers if we ourselves can reflect the diversity of our customer base.''
Clas Ohlson's long-term target is that at least 15 percent of the employees will have a background from a country different to the one that they currently work in. In 2019, 9 percent of Clas Ohlson's co-workers are born in a different country to which they currently work in. 14 % have parents who are born abroad.
"We have actively worked with our recruitment to increase diversity. One example is how we communicate in our adverts to attract women or people from different backgrounds to functions where they are under-represented. In our recruitment, we also consider how different personalities can complement our teams in the best way."
Be yourself!
Clas Ohlson has a zero tolerance policy towards discrimination. New ideas are welcomed and all employees are encouraged to be themselves.
"Our culture is built on creating an inclusive environment, where everyone should feel that they can be themselves," says Maria.
Clas Ohlson annually conducts internal surveys to examine how open and tolerant the work environment is perceived among employees. The surveys show that Clas Ohlson is perceived as an inclusive workplace where people respect one another and where everyone has equal opportunities.
More diversity
During the spring in 2020, all management teams at Clas Ohlson will take part in a workshop with the aim to increase awareness of the impact of diversity in a company, and what they as leaders can do to actively encourage greater diversity and inclusion.
"What is most important in creating an equal opportunities company is having a management team and a CEO who highlights the topic and actively takes a stand for increased diversity. Obviously, it is important for all leaders at all levels to work with diversity. We have more work to do in this area but we are on the right track," says Maria Thulemark.