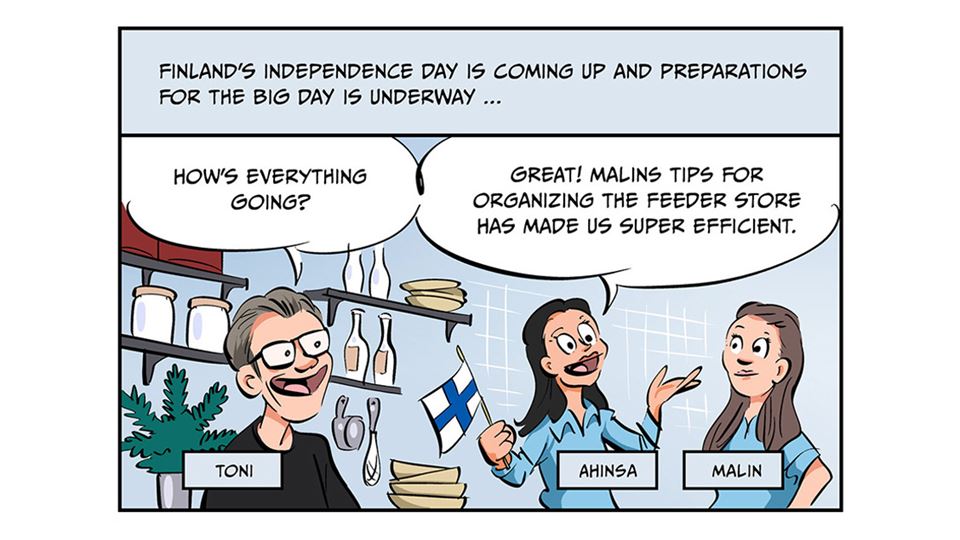 Christmas is the most intense time of the year at Clas Ohlson. With millions of customers visiting our stores and large volumes of products passing through our logistics systems every day, the time to communicate and share ideas internally is scarce.
At the same time, Christmas is in many ways the most fun period of the year and there are lots of stories to tell from our business about how we try to create Christmas magic for our customers in different ways.
"We wanted a new format to highlight our employees and share best practise during the Christmas shopping season. For us, it was important that the format was easy to engage with, didn't take too long to read, and hopefully it would offer a few laughs too," says Niklas Carlsson, Head of Communications at Clas Ohlson.
This was the start of us publish a comic strip in our internal channels, every Friday before Christmas, with our own employees in the lead roles.
Employees share posts internally about how different situations have been resolved in our stores, at our distribution center or in our offices. One of the posts is then selected to become a series.
"We have been doing this since Christmas 2019 and we have received a lot of positive feedback. It gives a snapshot of what is happening in other parts of the company and an opportunity to pep each other around all the good things that we do together every day," says Niklas.
The artist behind the series is Kenneth Larsen, a Norwegian cartoon artist based in Sweden.
Below here are some examples of the cartoon!