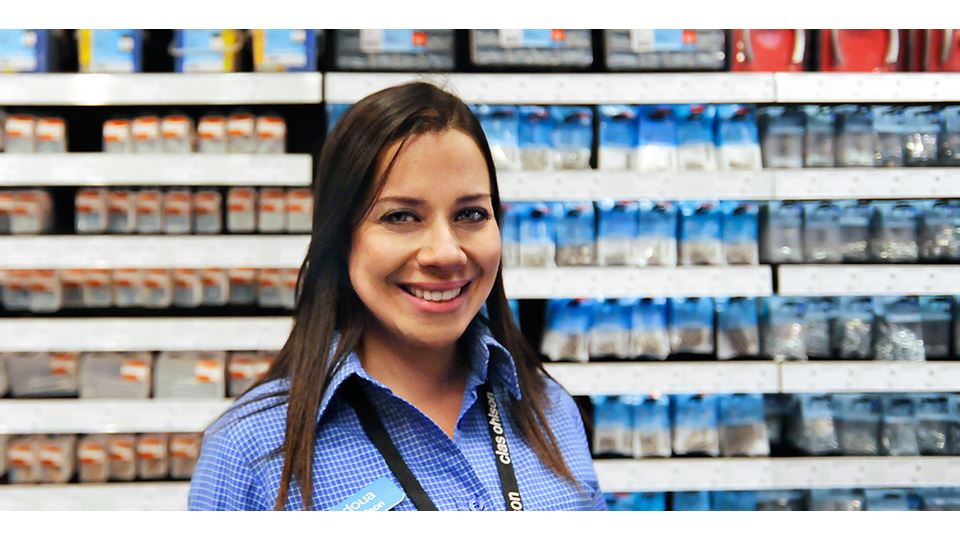 Fadoua Aklidou has has ten years' experience from Clas Ohlson. With various tasks, opportunities for personal growth and continuous challenges, Fadoua has never considered finding work elsewhere.
For Fadoua Clas Ohlson was a random choice. After years in sunny Spain, she longed home to Norway and needed work. It all started with a part-time job, but within two months, she had so many shifts that she became a full time member of the team. Three years ago, she secured the position as Store Manager in Lambertseter, Oslo.
"I applied for a store manager position three years ago, but I could have applied earlier. I just got so many other exiting opportunities I needed to try first. For instance, I became a project member when we were training our new Co-workers in our Førde and Bergen stores. I also joined a project group securing the roll out of new tills in all stores, in all countries. Our head office often turn to the stores for resources in projects, so there are opportunities all the time! If you are enthusiastic and show that you are willing to work hard, the possibilities are endless.
The interest for tools and store operations have come gradually.
"When I joined Clas Ohlson I had never held a drill before. I got to know all our products, got my own department and suddenly I found myself in charge of Ironmongery. My responsibilities grew and I found myself in charge of tills and stocktaking. Eventually I became teamleader and then store manager. I have worked here for ten years, but new and exciting things have happened along the way. I can honestly say I have never had a dull moment at work. Our work environment is good, we have a culture where having fun, and enjoying work is important.
Three years ago, Fadoua got her very own store. It was a special experience.
"The first day when my mentor handed me the keys, it just hit me that all this now was my responsibility! I had to find my own way, and map out the stores future. The first thing I did was getting to know my co-workers properly. It was quite tough the first year, but very educational and rewarding. You get to know everyone's strengths and weaknesses, including your own. I had to figure out how to motivate and led the team in the same direction. I have never regretted becoming a Store Manager, it has formed me and given me so much in many ways.
Fadoua was 28 years old when she was set to lead employees far older than herself.
"The thought hits you when you have team members older and in some ways more experienced than yourself. I thought about ways to earn my teams respect and make them want to be a part of our journey. I might be small of size, but my team respects me. Age has never been an issue, and I have not given it much thought after the first day.
Fadoua is happy to have reached her goal of becoming Store Manager, but she has more plans ahead.
"The last three years we the "Lambertseter team" have proven ourselves. I have a fantastic team and we have good results and contribute to the business. There is a lot going on with new housing projects and development of the whole area, so the future is full of opportunities. However, I have never been in a store-building project. That could be fun. I also have a dream of taking on a bigger store in the end. If I could combine the two by building my own store, and putting together my own team from the start, that's my ultimate dream. In Clas Ohlson, anything can happen!