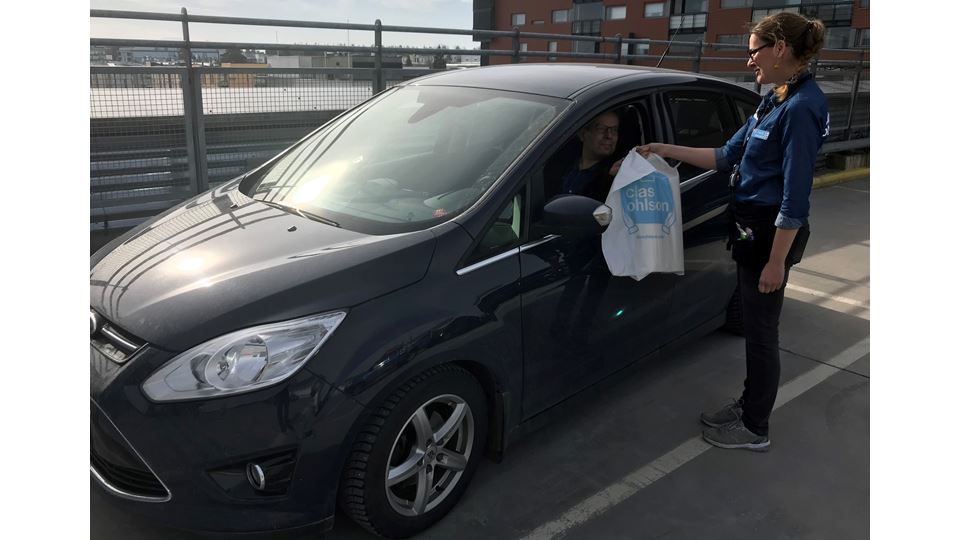 Clas Ohlson now offers "Click&Drive" with delivery straight into your car in selected stores in Sweden, Norway and Finland.
"We want to ensure our customers and employees that we are doing everything we can to provide a safe shopping experience with great service, also in a time affected by uncertainty and rapid changes," says Geir Hoff, Director of Country Operations at Clas Ohlson.
The Click&Drive delivery option is offered in all stores in Norway, 32 stores in Sweden and 26 stores in Finland. The customer can order a product online and get it delivered to the car efter 2 hours.
"We wish to be there for our customers that for different reasons can't visit us in our stores in these times," says Geir Hoff.
The new service will be available through the Click&Collect function on clasohlson.se, clasohlson.no and clasohlson.fi. The customer can simply place a Click&Collect order and the customer's local store will contact the customer with further instruction and meet every customer that wants to use this service at a dedicated meeting point in the car park outside.
These stores are now offering Click & Drive:
Norway
All stores
Finland
Espoo Ainoa
Espoo Pikkulaiva
Espoo Sello
Helsinki Itis
Helsinki Kannelmäki
Hyvinkää Willa
Hämeenlinna Goodman
Joensuu IsoMyy
Jyväskylä Kauppakatu
Kempele Zeppelin
Kokkola Kallentori
Kotka Pasaati
Kouvola Veturi
Kuopio Haapaniemenkatu
Kuopio Matkus
Lahti Karisma
Lahti Syke
Lappenranta IsoKristiina
Lempäälä Ideapark
Pori Puuvilla
Raisio Mylly
Rovaniemi Rinteenkulma
Seinäjoki Ideapark
Tampere Ratina
Turku Skanssi
Åland Mariehamn
Sweden:

Stockholm, Sveavägen 52
Västervik
Motala
Linköping,
Örebro Marieberg
Västerås Erikslund
Lidköping
Karlstad Bergvik
Skövde
Växjö
Lund
Ängelholm
Ljungby
Kalmar Baronen
Karlskrona
Kristianstad C4
Borlänge,
Insjön,
Sundsvall Birsta
Luleå Storheden
Kiruna
Halmstad Flygstaden
Borås
Stockholm, Barkarby
Stockholm, Bromma
Stockholm, Mall of Scandinavia
Stockholm, Värmdö
Stockholm, Sickla
Stockhol, Haninge
Stockholm, Ringen
Skellefteå
Stockholm, Vällingby