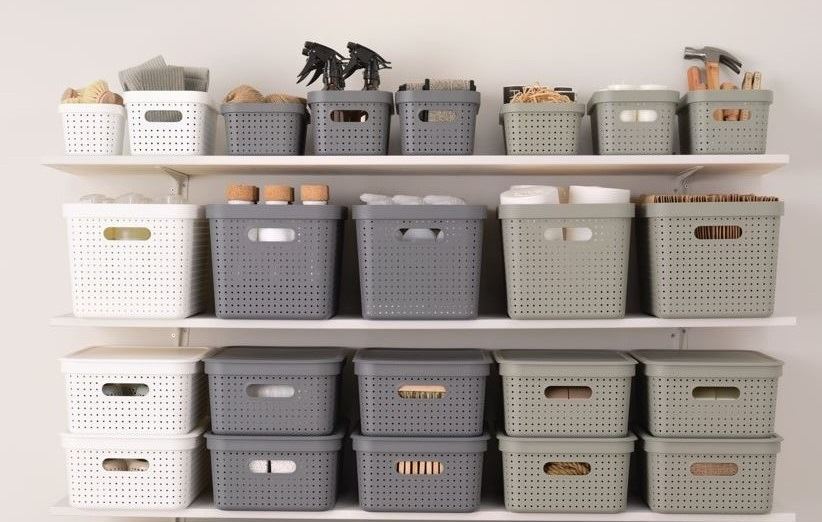 Clas Ohlson's design team, together with Nordiska Plast, has developed a series of storage baskets made of recycled plastic, produced in Gislaved, Sweden.
This product series replaces a previous series that was made of new (virgin) plastic material, which was produced outside Sweden.

"Helping our consumers organize their homes and live more sustainably is very important to us. When we developed these storage baskets we wanted to get them right, therefore we created them to have a timeless design aesthetic so they can blend into most homes and won't become dated quickly," says Thomas Fearis, Senior Industrial Designer.

"We have chosen harmonious colours for this series, bringing thoughts of nature and mindfulness. The same colours can be found throughout the cleaning and organisation range, for example in our collapsible boxes and microfibre cloths. We have products for environmentally friendly cleaning, and we have chosen for example the green colour to reflect that," says Sarah Einarsson, Designer.

The choice of materials alone means that carbon dioxide emissions for these storage baskets have been reduced by more than 50 percent. Nordiska Plast also has a highly automated and energy-efficient production where 4,000 square meters of solar panels and wind power together with modern machinery have halved electricity consumption.

"We produce these locally here in Sweden and have designed the baskets to stack neatly when transported, meaning emissions per product are again reduced, making this a more sustainable and long-lasting product for our customers," says Thomas Fearis.