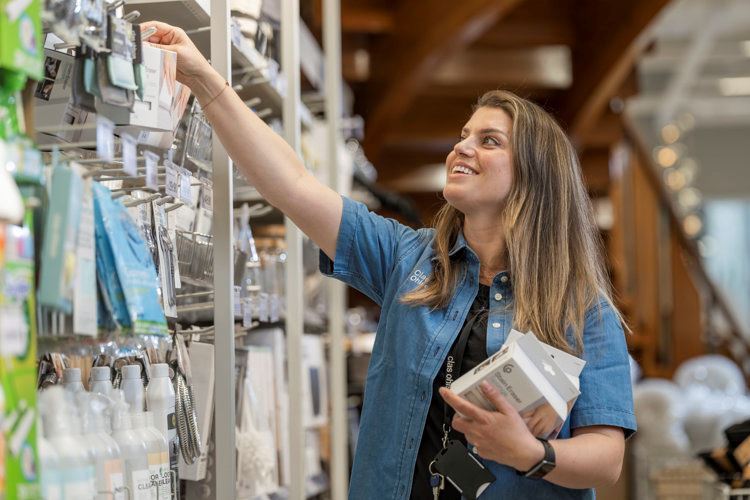 The Clas Ohlson stores
We work continuously to develop our various sales channels and to offer a flexible and inspirational shopping experience. The size of our stores varies and our offering is adapted to reflect the stores' locations and customers' needs. Products that do not appear in the in-store range can be ordered for home delivery or in-store collection. We are careful to establish stores in key locations, such as a city centre or popular centrally-located shopping centres. We own and run our stores ourselves.
Currently our largest physical store covers 3,197 m² and is located in Insjön in Sweden, where it all began.
Clas Ohlson Customer Service
Most of the questions from our customers are answered by clas ohlson's contact center, either by e-mail, mail, phone, chat or by fax. You can also place your order here.
Compact Stores
In 2016 we launched our new smaller store format, which we call Compact Stores. A Compact Store has an area of around 300 m² and is filled with smart products and practical solutions. At these stores you can also order items you might need for home DIY projects. Our Compact Store concept is designed to make us even more accessible to our customers and to be where our customers are as they go about their everyday lives.
www.clasohlson.com
Our largest and most popular store is actually our online store, which has the advantage of being open around the clock. Our online store is available on all our markets and stocks all 15,000 or so of our products and over 10,000 spare parts. Here you can also find buying guides and inspirational films, ask questions and receive responses, upload shopping lists, and view more product information.
The Club Clas customer loyalty programme
Club Clas, Clas Ohlson's customer loyalty programme, was introduced in Sweden in 2013 and in Finland in 2014. The programme has about 2.7 million members, with membership providing access to discounts and special offers, as well as invitations to various store events. Our aim is to bring Club Clas to all markets.
Clas Office – our corporate loyalty programme
In autumn 2014 Clas Office was launched in Sweden and Norway. This is our offering for mainly small and medium-sized companies. We have long had corporate customers at Clas Ohlson, but Clas Office gives us an opportunity to provide corporate customers with an even more relevant and targeted offering. In connection with the launch of Clas Office, we expanded our range of office products.
Clas Ohlson Outlet
Clas Ohlson Outlet can be found in Insjön, Sweden. This is the ideal place to find a bargain, with discounts of up to 70 %.
Address:
Hjultorgets Köpcentrum
Idrottsvägen, 793 85 Insjön
Sweden
Telefon: +46 (0)247 445 00